IoT
Coco Framework: blockchain game changer
A growing number of enterprises are showing their interest in blockchains.

Microsoft wants to help and make it easier for the enterprises to build their networks using any distributed ledger, so we have unveiled a framework called "Coco", short for "Confidential Consortium",  a new open-source foundation for enterprise blockchain networks.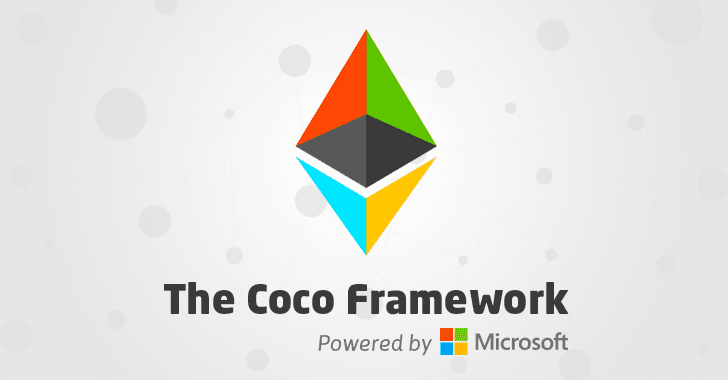 Coco is a framework designed to work with any ledger or operating system, it is a blockchain protocol technology aimed to make it easier to build enterprise networks quicker and more secure using any distributed ledger. The ultimate goal is to facilitate and advance the adoption of distributed ledger and blockchain technology in the enterprise sector, by removing existing complexities surrounding the current blockchain protocols.
Corporate interest in blockchains is firmly growing. Embracing this innovative technology however remains a big hurdle for most enterprises, as there is no unified approach in this regard. As a result they have difficulties integrating in into their systems. There are many different blockchains, but major blockchains are not designed to be interoperable with one another. As enterprises look to apply blockchain technology to meet their business needs, they've come to realize that many existing blockchain protocols fail to meet key business requirements. The problem is that most blockchain protocols today require complex development techniques to meet the operational and security needs of enterprises.
Issues like performance, confidentiality of data, governance and required processing power are still major stumbling blocks for using blockchains. One of the other key enterprise blockchain problems is that of access controls for transactions.
 "The limited scalability, lack of confidentiality between blockchain-transaction participants, and shortage of simple, centralized governance has held back blockchain's adoption by more enterprise customers"
Mark Russinovich CTO at Microsoft AZure.

What is the Coco Framework?
The Coco Framework is an open-source Ethereum-based protocol, designed to provide high-scale and confidential blockchain networks for enterprise purposes. It should be seen as the foundation of blockchain for the enterprise.  It is designed to work with any ledger or operating system. It can connect existing blockchains with one another. The Framework is targeted especially for consortiums where nodes and actors can be controlled.
The Coco Framework is built to address some of the current limitations of enterprise blockchain. It is meant to reduce the complexity currently associated with blockchain protocol technology and make it easier for enterprises to adopt blockchain technology. This by increasing transaction speeds, offering confidentiality and simplify governance decisions. The ultimate goal is to boost widespread adoption, particularly among enterprises, of blockchain technology.
Microsoft is developing the Coco Framework in cooperation with Intel, JP Morgan and Ethereum. The Coco platform is designed specifically for confidential consortiums, through the introduction of a trusted execution environment, advanced cryptography and innovative blockchain-focused consensus mechanisms to open up new blockchain enabled scenarios across industries.
The CoCo Framework is designed to integrate with a wide range of blockchains and distributed ledgers. It is meant to provide the infrastructural underpinnings for the growing number of such ledgers that are emerging from different vendors and groups. Although CoCo is not an actual ledger, it will help other companies with established blockchains to come together, link with each other and built large networks.
While the CoCo Framework is capable of being powered'by the Microsoft Azure cloud-computing offering,  the Framework is open and will be compatible with any ledger protocol. It can be "run virtually" anywher from any cloud platform and/or on premises, and on any operating system and hypervisor that supports a compatible trusted environment (like  Intel's Software Guard Extensions and Windows Server's Virtual Secure Mode). The Coco Framework will be integrated with a number of existing open-source blockchains and distributed ledgers. As of today, CoCo already supports 10 different ledgers. Initial ledger integration partners include names like Ethereum, R3 Corda, the Intel's Hyperledger Sawtooth and JPMorgan's Quorum.
A key feature of the CoCo Framework is its speed. Microsoft says that once integrated within a CoCo enabled trusted blockchain network could see much higher transaction throughput. By using that shared trust, it is possible for blockchain networks using the CoCo Framework to bypass transaction verification operations like those required by the current open source version of Ethereum. This will greatly increases the transaction speed.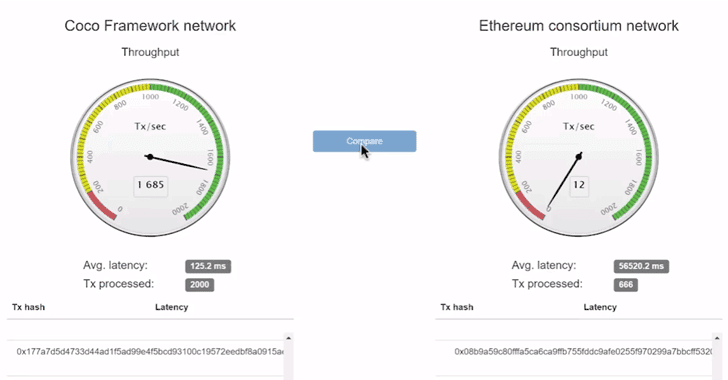 They may handle more than  1,600 transactions per second on average in its present prototype setup, with low hundreds of milliseconds latency. That is on par with database speed. During a speed test, Coco achieved approximately 1,700 transactions per second using a private version of the Ethereum blockchain, compared to only a handful of transactions per second without the framework.
Microsoft plans to make the Coco Framework available as an open source software project by 2018. It will be posted to and available on Github.
CoCo as blockchain game changer ?
A universal framework like CoCo capable of linking existing blockchains in one convenient solution may have some interesting ramifications. The solid and unified approach as well as the degree of flexibility offered by the CoCo Framework, could be the driving factor for enterprises to adopt a blockchain oriented approach in the coming years.
As this CoCo Framework could eliminate the existing barriers to blockchain technology it may bring blockchain to the main stream.