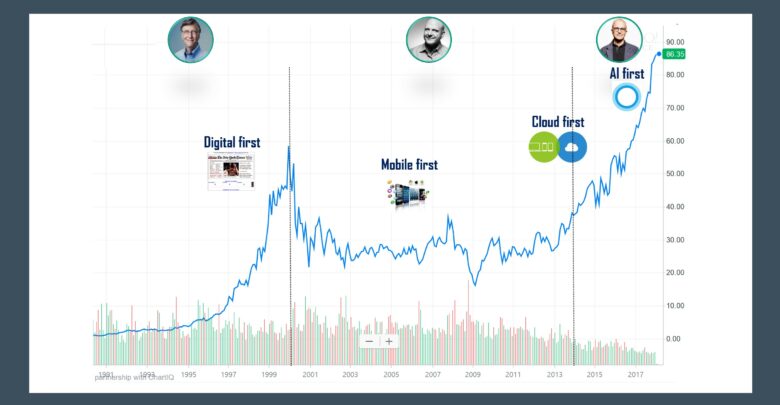 Satya Nadella (CEO of Microsoft) in March 2016 announced that intelligent bots are a Microsoft's top priority in its strategy. In August 2017 Microsoft adapted its mission statement accordingly.
In short, the words "mobile first" and "cloud first" have changed to "AI first".
Microsoft is going for an intelligent cloud and an intelligent edge based on artificial intelligence, the company is investing by 5000 researchers into a development unit to focus on AI, $ 11B in AI research and $ 15B in data center.
The Artificial intelligence has become pervasive in business in every industry where decision making is being fundamentally transformed by thinking machines. We are living in a golden age of AI advances and all other companies like Facebook, Amazon, Google, IBM, Salesforce etc. have focus on AI.
Mark Zuckerberg (CEO of Facebook) came up with a similar message at the end of 2016: in the roadmap that he presented at his developer conference, AI is at the center of strategy. Marc Benioff (CEO of Salesforce) even speaks of an AI first world and Ginni Rometty (CEO of IBM) says that all businesses will need artificial intelligence to succeed.
We will no doubt hear AI first announcements more often. After digital first and mobile first, the AI first decade has begun.
Here is a brief history of Microsoft's vision (from Digital first to AI first) and the company's stocks performance: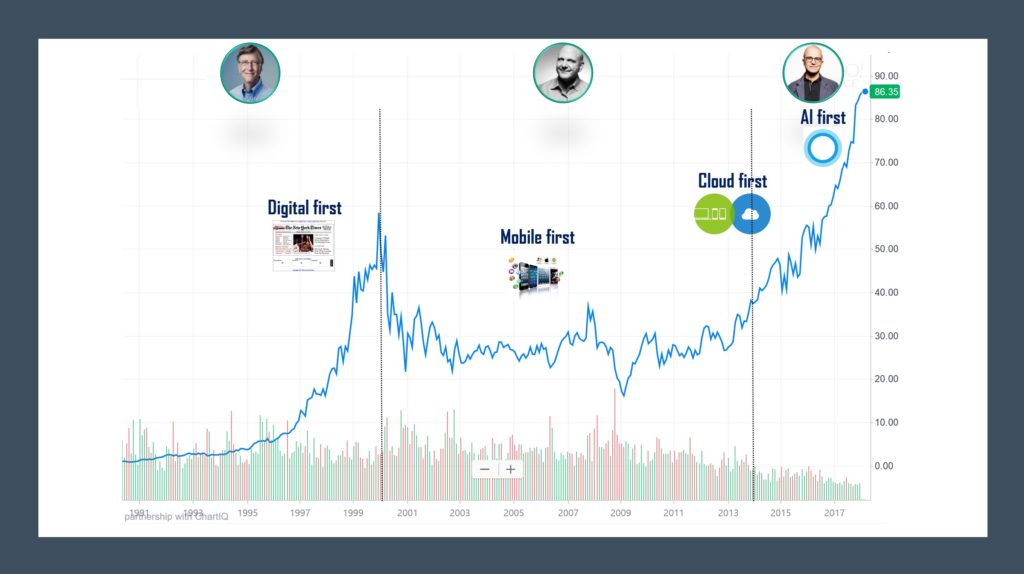 AI First means that organizations today should place Artificial Intelligence at the heart of their digital strategies. For Microsoft AI first means to democratize AI. Microsoft were dedicated to moving AI from the labs into the mainstream, giving people a chance to see the benefits of AI in their everyday lives.
Any products as Windows, Office, Skype and Xbox to bring new AI features.
The new Bing's intelligent search  using AI like machine reading comprehension and computer vision to provide answers with perspective and return more relevant results in image search. Seeing AI was launched to harness the power of AI to open up the visual world and describe nearby people, text and objects for the blind and low-vision community. Cortana became a more helpful part of our everyday lives through the Harman Kardon speaker and the partnership we announced with Amazon's Alexa.
The new services like Cognitive Services and the Azure Bot Services made it possible for our customers to build incredible AI applications for their businesses and in turn, their own customers. Language barriers lessened when we announced Microsoft Translator, an in-person, multi-device translation app that was also extended to provide real-time captioning with Presentation Translator for PowerPoint.
AI is real and Microsoft is bringing it to everyone, every day and everywhere, here are the most important pointers: