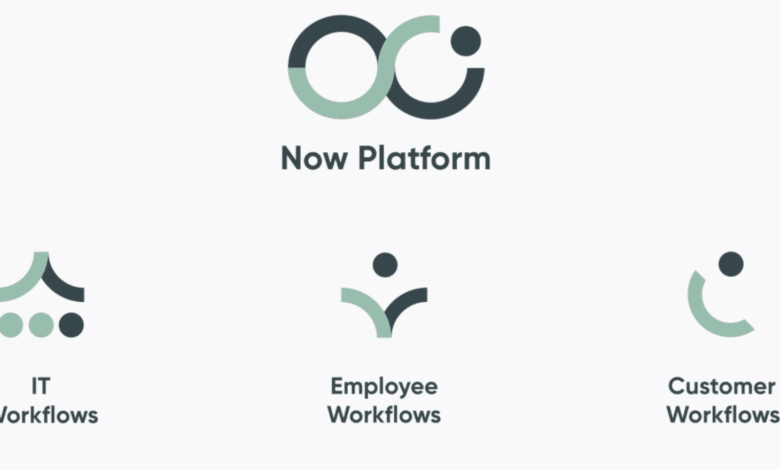 The digital economy is integrating itself into every aspect of today's business environment. ServiceNow is rapidly accelerating digital transformation within the enterprises. Digital technologies are changing the world, how organisations interact, how people work within them, how consumers buy products and services. Mobile, Data & AI, Analytics, Cloud are disruptors of enterprise IT, and now are the essential building blocks of a new breed of platforms. They allow next-gen capabilities, contextual awareness, data-driven personas, intelligent automation, IoT integration and advanced cybersecurity all contribute to the power of the platform, transforming digital business initiatives beyond our dreams.
ServiceNow is an excellent example of these new platforms: a cloud-based software solution that intelligently automates work across IT, HR and Customer Service.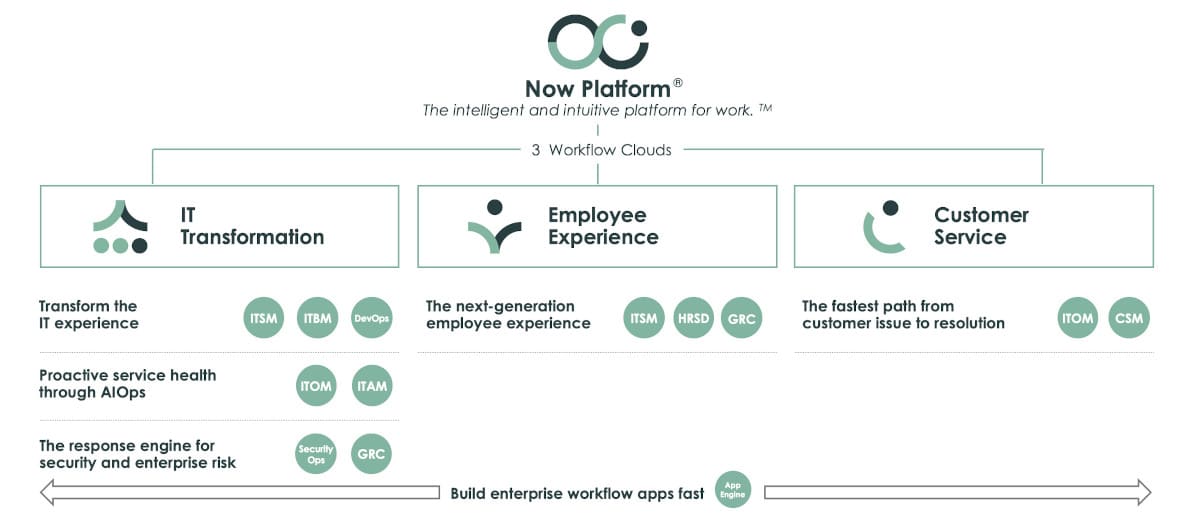 IT Service Management
IT service management has moved from being a cost center to a strategic department. ServiceNow helps facilitate collaboration between IT service and delivery teams in a flexible manner. It makes it easy to put in service requests and through automation and intelligent categorization, IT teams can deliver services very quickly. IT teams have better control and visibility over IT operations and infrastructure through tools like Agent Intelligence, which automatically categorize and assign tasks whereas; tools like Performance Analytics provide them real-time, actionable insights.
HR Service Delivery
With knowledge workers becoming more social, connected, global, and mobile, they expect a consumer-like service and excellent mobile and digital experiences from key function areas like HR. Since the traditional HR models with legacy technology and confusing processes fail to meet the expectations of the digital workforce, organizations have started investing in solutions like ServiceNow to modernize their HR service delivery. Through intelligent automation, ServiceNow helps organizations in transforming their HR service delivery. It helps companies improve their retention rates through automated onboarding processes which make the onboarding a very pleasing, smooth, and seamless experience. The self-service portals allow employees to access HR information anytime and find answers to their common questions on their own. ServiceNow's tools also make the HR functions a lot more productive as the staff members spend very little time in time-consuming tasks. An excellent HR service helps in keeping employees happy, more engaged, connected, and makes them feel valued.
Customer Service Management
To stay ahead of the competition and to address the needs of today's digital customers, organizations are now focusing on creating exceptional customer service experiences for their customer. Customer experience and customer satisfaction are two major factors influencing organizations' decisions of implementing a digital transformation strategy. ServiceNow Customer Service Management provides an omni-channel customer service solution which helps in increasing customer satisfaction by systematically identifying the root causes of customer issues and quickly resolving them. It automates the repeated customer requests and makes those available as self-service actions in customer portals. It brings together other parts of the business such as accounts, operations, engineering to help in faster issue resolution and makes customer service a team sport. Its advanced analytics in proactively addressing KPI trends.
Moreover with Now Platform you can rethink how you build apps, the developers of all levels can reduce time to market and speed up delivery. You get full‑stack dev power with a turnkey application structure that's ready to rock right out of the box.
When today's customers run into problems with a product or service, they expect fast resolution and a simple engagement process. While they understand that complex issues require input from various departments in your organisation, they aren't all that concerned with how you get things done. Your customers simply expect an effortless experience, where their issues are resolved satisfactorily in as short a timeframe as possible. In addition, ServiceNow offers a seamless workflow, connecting people, processes and resources while streamlining customer service processes across all your departments and touch points. Through advanced automation, it gives service agents clear insights into the health of product and services, and it provides useful tools for root cause analysis to facilitate preemptive service. These capabilities all contribute to the final goal of every digital transformation: creating a flawless, unique experience for every customer.
Augmenting the Cloud with Intelligent Automation
ServiceNow is rolling out a machine learning engine to support its platform. Designed to automate routing and workflow, benchmark performance and predict outages and outcomes, the Intelligent Automation Engine will bring significant business benefits to the customer service domain.
In the traditional environment, contact service desks or call centers report product issues or service outages. ServiceNow's engine, however, will predict these issues and proactively trigger cases and workflows to resolve them. The system is able to identify the patterns and outliers that lead to outages, correlating anomalies with past events and workflows. Cases are routed and categorised automatically as learning algorithms build on past patterns, while risks and owners are intelligently assigned to each task.
An Open, Custom Approach to Cloud-first Applications
ServiceNow believes it should be easy for customers and employees to engage with a company and transform how work gets done across the enterprise. Achieving this requires flexibility; users should be able to develop custom applications that allow them to meet their own specific business needs. To facilitate this, ServiceNow has opened its Now Platform. Using out-of-the-box platform features, components and services, customers can create their own apps as they see fit.
As a result, customers have the opportunity to develop their own customer service and HR-related apps, freely integrating these new solutions with existing applications both within and outside the enterprise. In addition to greater operational flexibility, it also allows them to connect dissimilar devices to create end-to-end automation via the Internet of Things.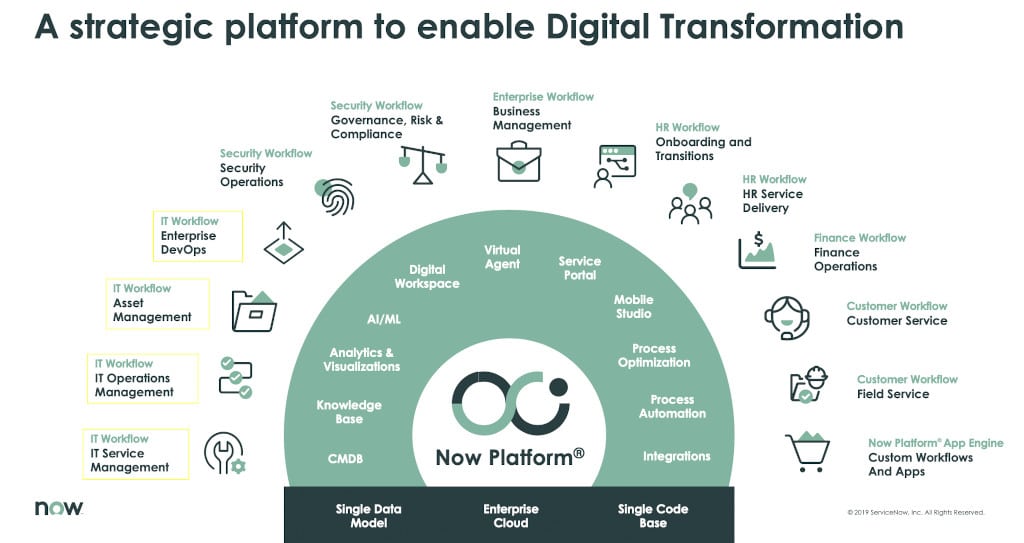 Building Blueprints for the New Cloud Economy
Digital strategy cannot become a reality without the use of enterprise cloud services and cloud-first applications. To reimagine your business in the digital sense, however, is a considerable challenge. Your success will not only be determined by the strength of your digital vision, but also by your ability to adopt and implement these new digital technologies. Now platform offers a single common platform for various teams across the organisation and eradicates working in silos. By providing a common view and management of all resources and work, it helps the teams work faster, smarter, and in a more collaborative manner. The real value of technology is realised when a single technology platform is deployed to provide unified information to various stakeholders across multiple departments and silos are removed.
That's exactly what ServiceNow offers.